Hyperventilator, 38
it's been a while
Laubach, Germany
Find Other Singles In
Germany!
Ad Partner
Ad Partner
Nerdy guy seeks... :)
Why? Because I "am" german
No bigger description to find here

For more details, please check my profile
About Me
Hobbies & Interests
board games, chess, comic books, computers, history, internet, killing zombies, music, reading, television, video games
Body Type
athletic, skinny
Movies
action, animation, classics, comedy, drama, fantasy, horror, murder mysteries, psychological thrillers, sci-fi
Relationship
single - never married
Have Kids
no - maybe with the right person
Income level
that's private
Do you smoke?
cigarettes, daily
Do you drink?
beer, socially
I currently live
alone, with pets
Socially, I am
a couch potato, better in small groups, class clown, flirt, loner
Food Related
BRAINS!!!, Candy is a Food Group, Right?, Carnivore, Fast Food, Fine Dining, Hot Sauce on Everything, Indian, Italian, Japanese, Junk Food Junkie, Mediterranean, Mexican, Omnivore, Organic, Spicy, Sushi, Thai, Vegan, Vegetarian
Personality
coffeeholic, fun loving, geek, introvert, loner, lover, nerd, pirate, playa hater, professional, romantic
Individuality
circus clown, paranormal believer, pirate at heart
I'm looking for
conversation, friends only, miss right, miss right now, penpal, relationship, romance, something interesting, the yin to my yang
My Sign
scorpio : oct. 23-nov. 21
Pets
Cats, Small Furry Creature
Music
Alternative Rock, Celtic, Classical, Hard Rock, Heavy Metal, Metal, Opera, Progressive Rock, Punk, Rock
Fitness & Sports
armchair quarterback, working out
Health Related
western medicine
Languages
English, German
My Photos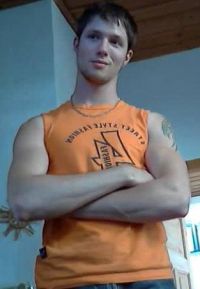 A group for people born in Germany, who are living abroad but still want to stay connected with their homeland.
A group for people who were born and raised in Germany, now living abroad, looking to connect and share stories with fellow expats.
A group for people who grew up in Germany, now living abroad, who want to stay connected with their homeland and share stories with others.
NO STINKY DATES Amazon Ads
Find Other Singles In
Germany!
Ad Partner
Ad Partner











NO STINKY DATES Amazon Ads




Recommended Germany Sites
German Dating Sites
Germany News
Germany Travel
History Of Germany
Online Dating Sites
Webcam Sites
Personals / Chat Sites
Miscellaneous